John R. Lynch Exhibit at Old Capitol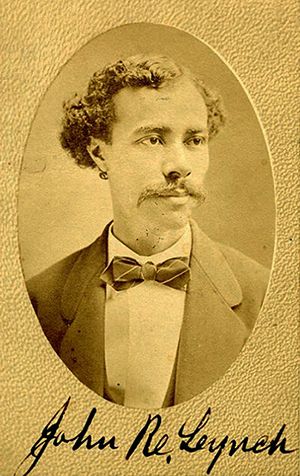 The Old Capitol Museum begins the new year with a Luminaries and Legends Hall of Fame spotlight exhibit celebrating Mississippian John Roy Lynch. Lynch (1847-1939) became one of the first African Americans to serve in the United States Congress. Born into slavery across the Mississippi River from Natchez in Vidalia, Louisiana, Lynch rose quickly in the world of state and national politics after the Civil War. He was a member of the Mississippi Legislature from 1869 to 1873, serving as Speaker of the House of Representatives. During that time, he and his fellow Republicans spearheaded many longstanding initiatives, including the creation of public schools in Mississippi.
In 1873, Lynch was elected to the U.S. House of Representatives, serving for two terms until 1877, and again from 1882 to 1883. After his time in Congress, Lynch served as the Treasury Auditor of the Department of the Navy from 1889 to 1893. He returned to Mississippi and passed the state bar in 1896, then set up a law practice in Washington, D.C., the following year.
Lynch was appointed as paymaster in the U.S. Army by President William McKinley. Retiring from the Army in 1911, Lynch moved to Chicago and continued to practice law and sell real estate. He also became an early challenger of the dominant views amongst historians of southern Reconstruction, penning The Facts of Reconstruction.
Lynch was elected to the Mississippi Hall of Fame in 1986. An anonymous donor had Lynch's portrait made and it was dedicated in a ceremony on February 26, 1995. The portrait was painted by Betsy Creekmore of Jackson, and hangs in the Old Capitol Museum. The special exhibit will be on display in the rotunda April 2.
The Old Capitol, Jackson's oldest building, is a National Historic Landmark. Located on State Street at Capitol, the museum's regular hours are 9 a.m. to 5 p.m. Tuesday to Saturday and 1 to 5 p.m. Sunday, free of charge. For more information call 601-576-6920 or visit www.oldcapitolmuseum.com.