Nicholas Lemann To Speak at OCM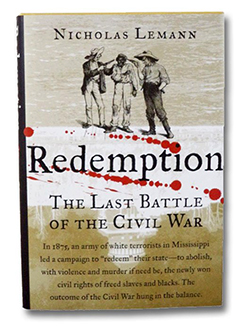 Award-winning author Nicholas Lemann will give a talk on "The History of the History of Reconstruction" at the Old Capitol at 6 p.m. on Tuesday, February 7. Lemann is dean emeritus of the Graduate School of Journalism at Columbia University and the author of five acclaimed books, including Redemption: The Last Battle of the Civil War.
The event will begin with a reception and book signing at 5 p.m. The lecture will center on the aftermath of the Civil War in Mississippi and the different ways that time period has been interpreted over the last 150 years.
"In the mid-1870s, Mississippi's Old Capitol and Governor's Mansion saw a momentous and chaotic series of events, which although less familiar to people than the events of the Civil War were just as consequential," Lemann said. "We must remember that history happens first as events, and then as a record of the past that should never be taken as final."
"Nicholas Lemann's Redemption is the definitive account of Reconstruction in Mississippi," said MDAH director Katie Blount. "We are honored to have such an eminent historian and writer returning to Jackson to discuss this pivotal era in American history—and how it has been viewed during different times."
This program is supported by the Mississippi Humanities Council through a special initiative of the National Endowment for the Humanities exploring the legacy of race in the United States, and co-sponsored by the Mississippi Book Festival.
Nicholas Lemann was born, reared, and educated in New Orleans. He graduated magna cum laude from Harvard College in 1976. He has worked at the Washington Monthly, Texas Monthly, the Washington Post, the Atlantic Monthly, and The New Yorker.
Lemann served as dean of the Graduate School of Journalism at Columbia University from 2003 to 2013, and is now Pulitzer-Moore Professor of Journalism at Columbia. He is the author of five books, including Redemption: The Last Battle of the Civil War (2006); The Big Test: The Secret History of the American Meritocracy (1999), and The Promised Land: The Great Black Migration and How It Changed America (1991). He has worked in documentary television with FRONTLINE, the Discovery Channel, and the BBC.
Lemann has served on the boards of the Authors Guild, the Academy of Political Science, the Society of American Historians, and is a member of the New York Institute for the Humanities. He was elected a fellow of the American Academy of Arts and Sciences in 2010.
The Old Capitol, Jackson's oldest building, is a National Historic Landmark. Located on State Street at Capitol, the museum's regular hours are 9 a.m. to 5 p.m. Tuesday to Saturday and 1 to 5 p.m. Sunday, free of charge. For more information call 601-576-6920 or visit www.oldcapitolmuseum.com.